Professional advisory service
Individual and small group sessions.  Please email Gondwana Textiles if you would like to discuss your specific needs
[email protected]                             Contact Susan 0427355629
1.    Presentations Public, Powerpoint presentations, illustrated lectures
'Gondwana Colour – Eucalyptus Colour' Eucalyptus for dyeing in Australia
The Art and science of Natural dyes
'The Dynamics of SLOW'"At What Cost? We all use textiles every day. The significance of the Slow Fibre Movement and natural dyes as ecologically sustainable alternatives to fast fashion, petrochemical dye colours and synthetics in textiles"
2.     Introductory consultancy
You might like to meet for a short time to discuss your specific needs and interests.  This consultation could take the form of an introduction to Eucalyptus dyeing in contemporary textiles in Australia.
3.     Practical, experiential  consultancy
Spend a little more time to enjoy Gondwana Colour – Eucalyptus Colour' involving simple shibori dyed in a prepared dye pot of eucalyptus
You might also like "Drawing with stitch- dynamic slow"
Creative embroidery
4.     Workshop (4 hrs /2 days)
Depending on the length of the workshop you choose, dyeing will introduce eucalyptus colour, through to learning about the making of the dye and colour silk and silk wool scarves, samplers and small lengths.
Introduction to botanical contact printing dyeing a scarf, working on paper
Drawing with stitch, the dynamic slow
Creative embroidery
5.    Extended workshop or masterclass – Gondwana Colour – Eucalyptus Colour' (5 days)
Are you really passionate about plant based colours.  Learn more about Eucalyptus dyeing of protein fibres. Extended workshops offer Gondwana Colour – Eucalyptus Colour' involving more complex to highly advanced shibori techniques.
Masterclasss at Gondwana Textiles studio only take place occasionally, on 5 consecutive days and is sometimes filmed. Location Mullumbimby. Email if you would like to place your name on a list.   [email protected]
6.    Ongoing consultancy /mentorships – the colour garden, focus on Eucalyptus Colour
natural dye technology and processes – practical participation
indigo dye from plants – planting and growing indigo, processes involved in dye powder preparation, dyeing technology and methods
the establishment of a colour garden – what plants provide colour
which species of eucalypts to plant
setting up a natural dye studio and teaching space
programming national and international residencies
event consultation and management
FACILITIES AND LOCATIONS: negotiable , mostly at Gondwana Textiles SLOW Textiles Studio Mullumbimby .
COST: variable.  One on one consultancy within the range of $100-$140 per individual.  Groups workshops, retreats and daily rates available.
Please email Gondwana Textiles if you would like to discuss further
 Contact Susan 0427355629                                          email:[email protected]
Are you a practicing artist, experienced or beginner, or a student?
Whatever your media ……. we are offering artful tips to improve your success  "I enjoy assisting artists to identify and achieve their individual artistic goals.  In my long career as a teacher  almost every day saw me helping students consolidate their ideas. My post graduate study continued to address these skills."
Entering into respectful critical dialogue is an empowering tool, an essential way to explore possibilities and refine your work.  From time to time, every artist, needs to review & evaluate.  Sometimes it's difficult to be objective when you have so much personally invested in the work.
Would you like some advice on how you might refine your concepts ?

Would you like to gain positive feedback about your folio or a piece you are working on?
Unblock restrictions to your creativity.
Receive sensitive discussion about the creative process, and about your own folio.
Would you like to see where others might take a creative inspiration?
Would you like to explore professional opportunities in your field?
how about advice on professional directions, self promotion and marketing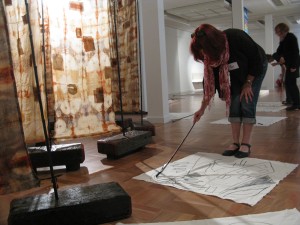 Gondwana Textiles Arts Consultancy addresses diverse professional development needs and facilitates critical dialogue sessions
Folio development
CV preparation
Exploring collaborations
Public projects and commissions
PD for teachers
Workshops and Retreats
Susan is interested to hear if a community would like her to come to their space .
Distance and online support
International residencies welcome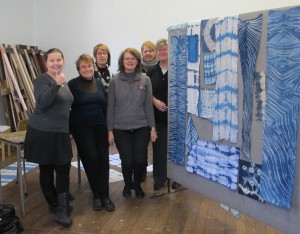 One on one and small group tutoring
° professional writing
° artists statements
° media releases
° grant applications
° making of an exhibition
° writing proposals
° planning, timelines
° budgeting
° promotion and media
Contact Susan to discuss a suitable professional approach to meet you needs
Formal critiques of art work are available by the hour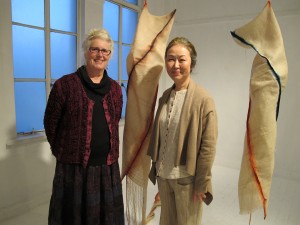 Mentoring

Folio Critique
Work can be critiqued based on the following:
intent &  inspirations
subject matter, content & context
composition, selection of elements,
consolidating all your rich & random ideas
translation of your thoughts into art works
mastery of techniques used
developing edge, contrast & balance
refinements, complexity, simplifications
integration of surface elements
presentation & display
audience engagement
memory, metaphor, concepts of spirituality, symbolism, observation & text